The action of flame retardants on the development of fire
But how does a flame retardant affect flame propagation?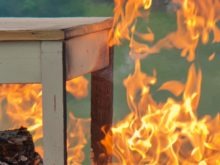 Flame retardants are used to delay the development of the flames and therefore to make safer the environments where we live or spend time.
The need to use these additives is given by the flammability of wood and wood-based products, which are composed of carbon and hydrogen, thus can easily develop fires (compared to other materials).
But how does a flame retardant affect flame propagation?
Flame retardants
In order to reduce the flammability of wood-based panels and to provide maximum safety in environments and to people, semi-finished products should be treated with chemical retardant compounds.
Over time, products have been developed to solve the problem of wood flammability and meet fire protection regulations.
The carbon layer effect
Fire retardants, that are added during the production of wood-based panels, are the result of studies and tests to ensure a high response in terms of flame propagation.
But how do they act?
Their function is to develop a carbon layer effect. In other words, using these additives allows to create a carbon layer able to block the access to oxygen and heat, delaying in fact the spread of flames: in this case the basic elements to trigger the fire do not find a contact point and then the combustion is slowed and reduces the amount of smoke produced.
Our flame-retardant product
The MG 20-13 is our microgranular flame retardant developed for wood-based panels. You can read more in this article or visit the product page
The MG 20-13 is characterized by:
Extremely easy to use,
Contributes to the highest fire resistance classes of the finished product tested,
Possibility of customization according to plant requirements.