ProPHOS Chemicals renews itself!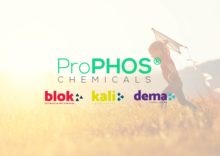 We are happy to inform you that our company reinvents itself: we have decided to embark on a path of image renewal, an ambitious project that stems from the desire to present the company to different markets with an innovative aspect.
Today, therefore, ProPHOS Chemicals has a modern look but not only... from the need to give a clear identity to the divisions that compose our company we have created two new brands, BLOK and KALI.
BLOK, KALI and DEMA: our divisions
ProPHOS Chemicals is organized as follows:
DEMA is the division which produces and markets microgranular, liquid and water-soluble fertilisers for the agricultural and green market;
BLOK is the long-standing division of ProPHOS Chemicals, which is specialized in the production of fire extinguishing powders for active fire protection;
KALI is the division that produces and markets additives for the chipboard and plywood panel market, such as flame retardants, catalysts and formaldehyde catchers.
A new strategic vision
The primary objective of the new strategic vision marked by the birth of these brands, is to create a defined and recognizable identity able to express in every form the essence of each production activity.
We want to point out that from a commercial point of view the creation of the new brands does not entail any change in the homologation and in the quality of the products since the validity of the certifications obtained over the years does not undergo any change.
In addition, as of January 2022, every product will be distributed with labels and packaging that reflect the communication strategy of the new brands.