Passive fire protection
Among the fire protection systems there is also the passive fire protection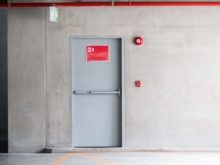 Among the fire protection systems, in addition to the active protection, which we have analyzed in this article, there is also the passive fire protection. Let's start with the definition.
The definition
When we talk about passive fire protection, we refer to the set of measures that do not require action by third parties and has as its objective the limitation of the effects of fire, in space (such measures against the propagation) and in time (such measures to combat duration).
Examples of passive fire protection
In general, we can include within this category those systems that have one of these three final characteristics:
reaction to fire,
fire resistance,
fire compartmentation.
To slow down the propagation of flames, we can therefore indicate as examples of passive protection systems:
fire escape route,
fire barriers,
fire walls,
ventilation systems,
external and internal safety distances.
Fireproofing processes of materials and fabrics also fall into this category. Textiles, paints, coatings, and fireproof plasters are other examples of how we can contribute to a protection that goes beyond human action and that aims at prevention.
Flame retardants for the wood-based panel industry
We have developed microgranular solutions able to reduce the high levels of fire reaction of wood-based panels: a flame-retardant product that meets the regulatory requirements regarding the use of semi-finished products. Discover KALI MG 20-13.